Lady Scryer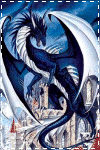 Joined: Sun Nov 17, 2002 5:11 pm
Posts: 9653
Location: Michigan, USA
Rhulad comes back to life once more in screams and horror. Once more only the slave Unidaas can help him refind a measure of sanity.

A huge battle takes place between the Edur and the Letharii forces. The Warlock King uses a monstrous magic against the Letharri and destroys them. Udinaas and Feather Witch are trappedk, but some of the Edur women including the Sengar mother save them - at the cost of nearly all of their lives.

The entire Letharii force is destroyed by the warlock King's fell magic. Rhulad had wanted to fight, and is enraged nearly to madness. Once again only Udinaas can help him find sanity. Rhulad says that from now on, they will honorably fight what Letharii forces remain. The magery had also killed thousands of Edur - Rhulad wants all of the battle dead to be buried and honored together, Edur and Letharii alike - for they are all his subjects now. In the morning they will march and he will take his throne.

_________________
Our lives are the songs that sing the universe into existence.~David Zindell